Baffin Island Dive Safari
Overview
Come and have the dive of your life with us.
Imagine yourself under the vast and silent skies of the high Arctic with the warm glow of the evening 24 hour sun bathing passing icebergs in a warm glow as narwhal whales pass by your safari style ice camp almost within arms reach…now don the dive gear and enter a world even more unlike anything you can have ever imagined….and prepare to have the dive experience of a lifetime.
Icebergs, drifting pack ice, seal holes, ice floe cracks, Arctic sea floor… the variety and sheer scale of dive opportunities will never cease to amaze. From amazing ice formations, to the wildlife that you can encounter above and below water will leave you with the feeling that that days dives were the best of your life, but only doing an even better dive the next day.
Arctic Kingdom has been leading scuba diving trips throughout the Arctic since 1999 – and remains the ONLY dive operator in the Arctic. The Baffin Island Dive Safari is one of our favourite dive locations due to it's variety of dives, along with the variety of wildlife we can encounter – from diving black billed murres, to resting narwhal.
Nestled between the majestic mountains of north Baffin Island and Bylot Island – Sirmilik National Park, experience abundant wildlife that congregates along the ice floe edge that only a few have seen. The spring floe edge is a fascinating eco-system where wildlife thrives. During this time in spring, wildlife gathers at the floe-edge and there exists the chance to see pods of narwhal resting only meters from the edge – their misty breathe sparkling in the 24 hour sun. In addition you'll have a good chance of seeing polar bears, a variety of species of seals, an incredible variety of sea birds including thick billed Murre, Kittiwake, Guillemot, Ivory Gull, along with many other species of gull. Bowhead and Beluga also frequent this area.
What Diving Certifications do I need?
If you have your Advanced Diving certification – you are good to go. Having your Drysuit certification is highly recommended.
Arctic Kingdom is committed to making the Arctic an accessible diving destination. We are cold water experts and even if you are not, we can help you become comfortable in the Arctic waters and truly enjoy some of the most incredible diving you'll ever do in your life.
Progressive Dives
Your dives will start off fairly simple in an open water environment off the floe edge (where the immovable sea ice we travel on by snowmobiles meets the open water of the Davis Strait). The ice at the floe edge is typically anywhere from 6 to 8 feet thick. We will inspect your equipment and ensure all of your dive equipment is functioning correctly and you are weighted for neutral buoyancy. Diving in salt water with a drysuit will require more weight than you are normally accustomed to so the first day will be in open water, off of the floe edge, close to shore where you can dive on the Arctic sea floor. Each dive will progressively build on the previous dive. From open water off the floe edge we may try to dive in some jumbled pack ice – remaining in non-overhead to a semi-overhead environment.
As we evaluate your diving comfort, we will attempt to dive in an overhead environment – perhaps through a seal hole, or through a crack in the sea ice – or maybe even under the floe edge on a line. Finally, the pinnacle of the dive – if conditions allow (i.e. an iceberg needs to be present and safe entry/exit point such as a crack or meltwater pool needs to be available), will be on a grounded iceberg.
Rebreather divers welcome!
We are rebreather specialized and can supply all the oxygen and sofnolime that you require for your dives.
Expedition Highlights
Dive in the most incredible ice formations found anywhere on the planet – pack ice, cracks, Arctic sea floor
View a vast array of wildlife at the floe edge from on their annual migration such as pods of the mystical Narwhal with it's tusk feed along the floe edge, bowhead whales and polar bears.
Settle into a high-end safari-style tented base camp on the sea ice
Touch and climb icebergs or even drink from glacier melt water flowing into the sea
Visit the Bylot Island bird cliffs with 20,000+ birds (ice conditions permitting)
Enjoy tea made of melt-water from hundreds of year old ice bergs along the route
Testimonials
What just a few divers had to say about diving here:
"This dive trip was one of the great experiences in my life and it fulfilled my quest to dive below the sea ice near one of the planet's poles."
J.C. – Chicago, USA
"The iceberg dive was one of my most favourite dives ever. Not a small compliment to the dive considering I have over 1000 dives. Outstanding!"
T.M. – Saskatchewan, Canada
"This trip had some unexpected perks for me: Listening to ocean sounds through a hydrophone, and especially diving under a frozen in iceberg. The latter was spectacular and rates in its own class. It takes a very wide angle to start to convey the sense of scale!…The best dive I've ever had. The scenery was also inspiring. One can spend days looking at it!"
K. N. – Waterloo, Canada
"Dive #146 was a tremendous highlight. This was my first dive on an iceberg. The experience was surreal!… It was spiritual in the intricacies of ice and the life that call it home."
A. M. – Ontario, Canada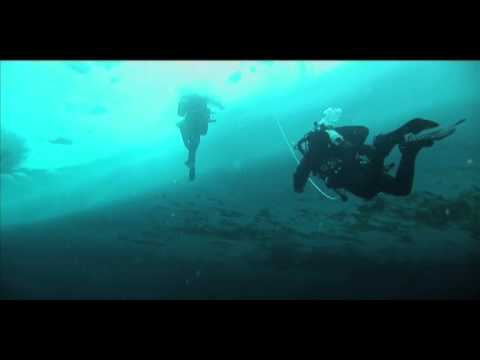 Brief Itinerary
| | | |
| --- | --- | --- |
| Day 0 or earlier | - | Arrive in Ottawa. Overnight in Ottawa. |
| Day 1 | - | Depart Ottawa for Pond Inlet. |
| Day 2-6 | - | Travel to floe edge, daily sorties at floe edge for scuba diving activities. Narwhal and Polar bear viewing. Other activities can include kayaking, hiking, bird-cliff visits, glacier hikes. |
| Day 7 | - | Return to Pond Inlet from Floe Edge. |
| Day 8 | - | Return flight to Ottawa. Overnight in Ottawa (not included). |
Trip Desitination – Pond Inlet
[SinglePic not found]
EXPEDITION SUMMARY
Trip Length
8 Days / 7 nights
2012 Dates
May 27 – Jun 3
4 Spots Remain
Price
$10,900.00+ 5% GST from Pond Inlet (2.5% for non-Canadian residents)
Flights from Ottawa to Pond Inlet return $3,256  (includes tax and fees)
Price based on dbl occupancy
Location
Pond Inlet, Nunavut, Canada
Participant Experience Needed
Only a great attitude and adventurous spirit!
Accommodations
Gateway town hotel,  Safari Base Camp on Ice
Transportation
Snowmobiles, Qamutik
(traditional Inuit sledge)
Insurance
It is a condition of joining this expedition that you must be insured against medical and personal accident risks and have search and rescue coverage (www.globalrescue.com)
View images from past tours and glimpse previews of coming attractions
Call or email us to find out availability
International: +1 (416) 322-7066
North America: +1 (888) 737-6818
Email: adventures@arctickingdom.com
An expedition planner will get back to you right away